We loved loved Hollywood Studios! It was one of our favorite parks.
Voyage of the Little Mermaid
Voyage of The Little Mermaid was really neat the way the show was performed. It was a mixture of cartoon and a live theatrical play with special effects thrown in. A very good show!
Rock'n Roller Coaster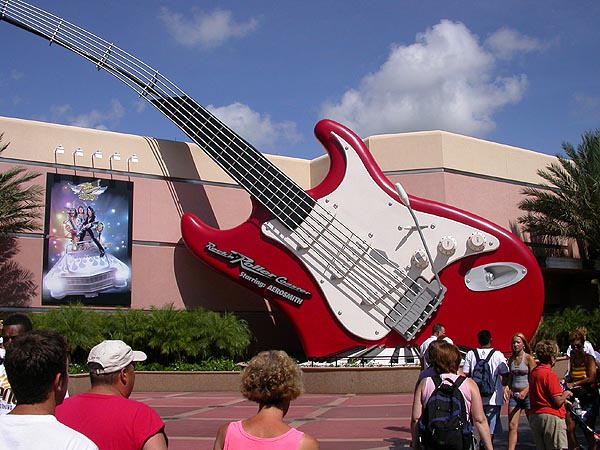 Ryan rode this one by himself while I went to get us seats for Fantasmic. He said it was pretty AWESOME!
Beauty and the Beast Live Performance
This show was all theatrical and was FABULOUS!!!!! We all loved it.


Fake City Background
This City straight behind me was flat and had an awesome 3-D affect as you can see.
Ryan & his favorite Toy Soldier
Indiana Jones Epic Stunt Adventure
This was a really cool stunt show. Sadly, three performers have died since June of 2009 rehearsing for this show.
Journey Into Narnia: Prince Caspian
This was alright. It was mainly just a place to preview the movie and then afterwards look at the costumes and artifacts used for the movie.
Muppet Vision 3-D
I thought this was boring. It's a 3-D movie that you watch and @ various parts of the show animated puppets and a costumed performer come out. We didn't have Keedan with us, so he might have liked it.
Star Tours
This ride made us a bit dizzy.
The Great Movie Ride
This is a pretty relaxed ride with a bit of live theatrics included.
The Twilight Zone Tower of Terror
This ride was "The Bomb Diggity". This will leave a smile on your face for a couple hours at least.
Toy Story Mania
We loved loved loved this ride/game. You ride in a cart, wear 4-D glasses and have guns to shoot at different objects. You are in a competition with the person next to you. By the end of the ride Ryan's score overly surpassed mine.
Fantasmic
Another theatrical/cartoon show. It is performed outside on a large platform over a body of water. (Probably due to the many fireworks and explosions)
The cartoon parts of the show are shown on moving water wall.
It was awesome!